motorbike , scooter or car number cut self adhesive number decals stickers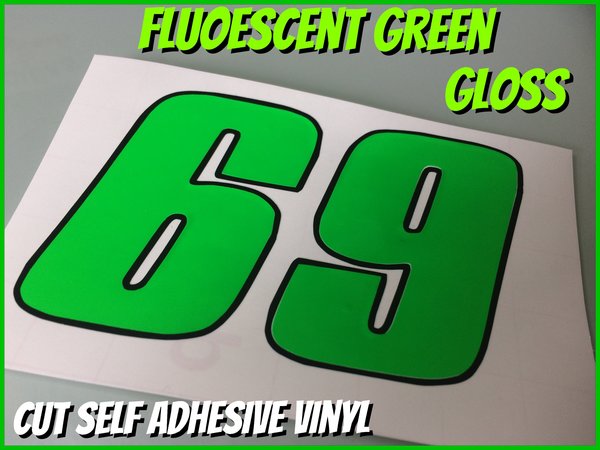 motorbike , scooter or car number cut self adhesive number decals stickers
FLUORESCENT or COLOURED VINYL MOTORBIKE AND SCOOTER NUMBER DECALS x2
CUT SELF ADHESIVE VINYL NOT PRINTED
Just choose the number you want added to your x2 decals 10cm x 6cm or choose from various other sizes
price is for 2 decals/stickers special offer
just select your number or numbers from the drop down boxes
along with your main colour vinyl and border colour
a matt or gloss black border
FLUORESCENT colours to choose from
RED
YELLOW
ORANGE
GREEN

PLEASE LEAVE NUMBER OR NUMBERS YOU REQUIRE WITH COLOUR
these decals stickers can be cut larger just select your size you require from drop down box
These are cut self adhesive VINYL so background colour will be colour of your bike or scooter when white backing paper is removed
All our self adhesive vinyl is of the best quality
With a 5 year plus exterior guarantee our polymeric vinyl is suited to long term exterior work and conforms to curves extremely well.
Very easy to apply to any surface all come with application instructions and clear application tape giving you a professional finish
Clear application tapes are ideal for multiple colour overlays and jobs where you really need to see what you are doing. We also recommend a clear tape if you are new to sign making.
Please take a look at our other self adhesive vinyl decals we have to offer
streetsignsuk
ALL OUR DECALS ARE
FREE POSTAGE
motorbike number stickers, motorbike number decals , scooter number decals , racing scooter decals , racing scooter stickers