Adidas vespa scooter decals , stickers , graphics bespoke design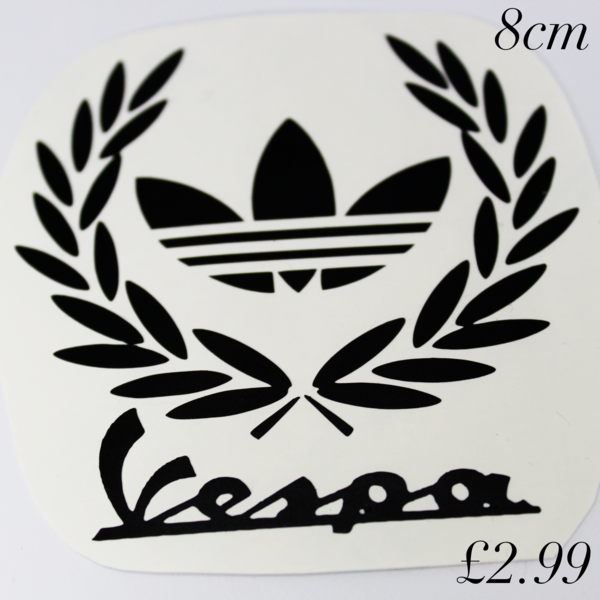 Adidas vespa scooter decals , stickers , graphics bespoke design

ADIDAS VESPA SELF ADHESIVE VINYL DECAL,STICKER,GRPHICS
Adidas Vespa scooter decal design comes in various sizes colours and finishes


All our self adhesive vinyl chrome and glitter effect is of the best quality so the designs can be applied indoors or out
Our KPMF range of cast glitter vinyl is suitable for exterior use for 10 to 12 years
With a 5 year plus exterior guarantee polymeric vinyl is suited to long term exterior work and conforms to curves extremely well.
We also have excellent quality reflective vinyl in stock so you decals can glow once a beam of light hits them
Just select your options from the drop down boxes
If you do not see a colour or size you want please contact us
All our self adhesive vinyl decals , stickers , wall art , graphics
come with application instructions and clear application tape
Clear application tapes are ideal for multiple colour overlays and jobs where you really need to see what you are doing. We also recommend a clear tape if you are new to sign making.
strong medium tack clear application tape with embossed surface for no static. Can be used for dry or wet application.
JUST REMOVE THE WHITE BACKING PAPER AND APPLY TO SURFACE THEN REMOVE CLEAR APPLICATION TAPE
very easy to apply to any surface
All our vinyl comes in matt gloss metallic chrome and glitter effect
Pleas take a look at our other decal designs in our store
ALL VINYL DECALS WALL ART STICKERS
FREE POSTAGE


streetsignsuk
scooter decals , scooter stickers , scooter wall art , scooter graphics , custom scooter graphic design , Adidas stickers, Adidas scooter graphics , Adidas scooter transfers